From 1 March 2021 HMRC introduced the VAT Domestic Reverse Charge rule.  This scheme is designed to shift the VAT liability which needs to be paid over to HMRC from small subcontractor businesses to larger companies. Under this new scheme, where the other conditions are met, a CIS subcontractor is no longer obligated to charge VAT on their construction invoices where they are not dealing directly with the end user.
HMRC's primary motive is to ensure tax bills are attached to larger businesses.  The tax man has long nursed a grudge against the construction industry due to the rate at which small subcontracting firms are driven out of business, viewing this as part and parcel of an industry culture that consistently deprives them of tax revenue.
However the Construction Industry CIS Reverse Charge is also excellent news for small subcontractors themselves; sparing tradesmen from complex VAT admin which has only become more complicated in the last few years with the introduction of Making Tax Digital.  Most small businesses will no longer regularly be paying large VAT balances to HMRC.  This will hopefully also protect them from the constant cash flow crunches which drive small construction firms out of business.
The easiest way to test your business against these rules is with HMRC's helpful flowchart.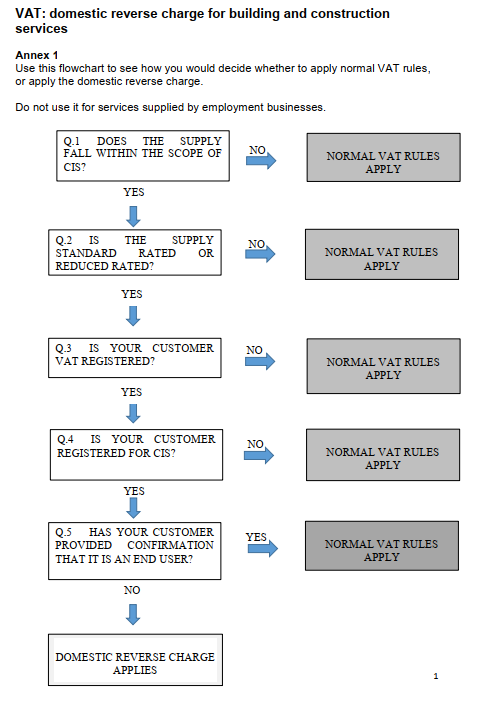 Other Useful information on new tax changes available in our most recent Budget Blog Post.